Your personalized topper allows you to request a memory foam preference for each side of the bed, that allows a level of personalization for you and your partner like very few other mattresses in the market (firm, soft, medium, extra firm). If these preferences should change, you can always modify the firmness of the mattress by changing the topper, without having to change the whole mattress.
As a result, this amazing sleep system was created with patented technologies and exclusive natural materials that gives this sleep system the ability to repel bed bugs, dust mites, and moths.
This clearly differentiates us from any competitor, as few mattresses in the market can offer this.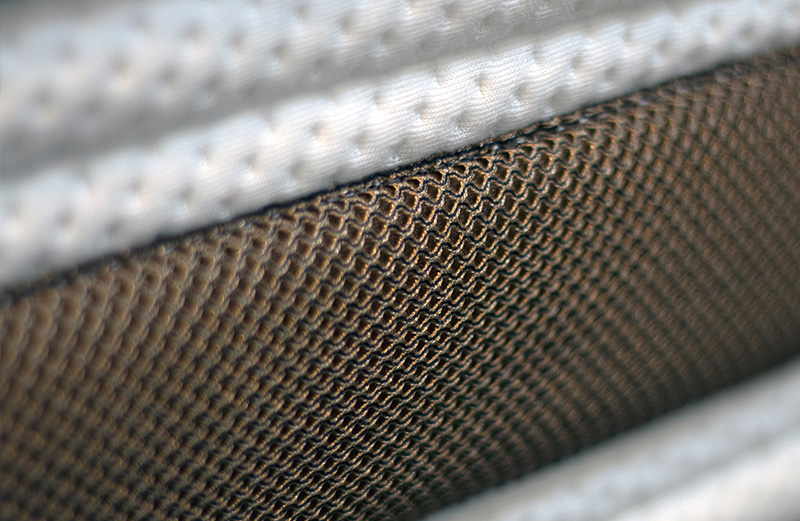 The Dolce Somnii Sleep System is made with 1A Visco-soy Plus Foam top and other earth-friendly materials, such as the Bio-soy Maxi-pore Inner core. These materials have been developed by our Partners after years of testing to create the highest standards in density and weight.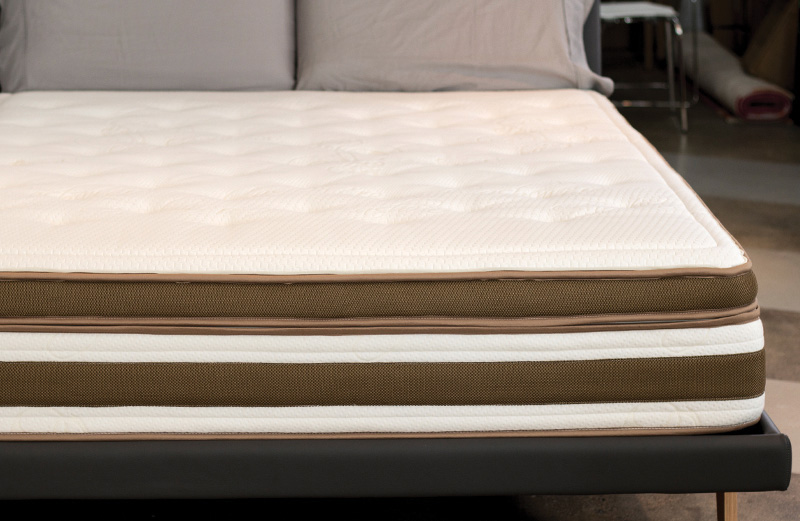 Their factories are key innovators of natural memory foam technology and they use the best raw materials and SupraCell technology, which guarantee their non-deforming over a long period of time. They also provide greater comfort, improved breathability, a better touch and overall superior properties.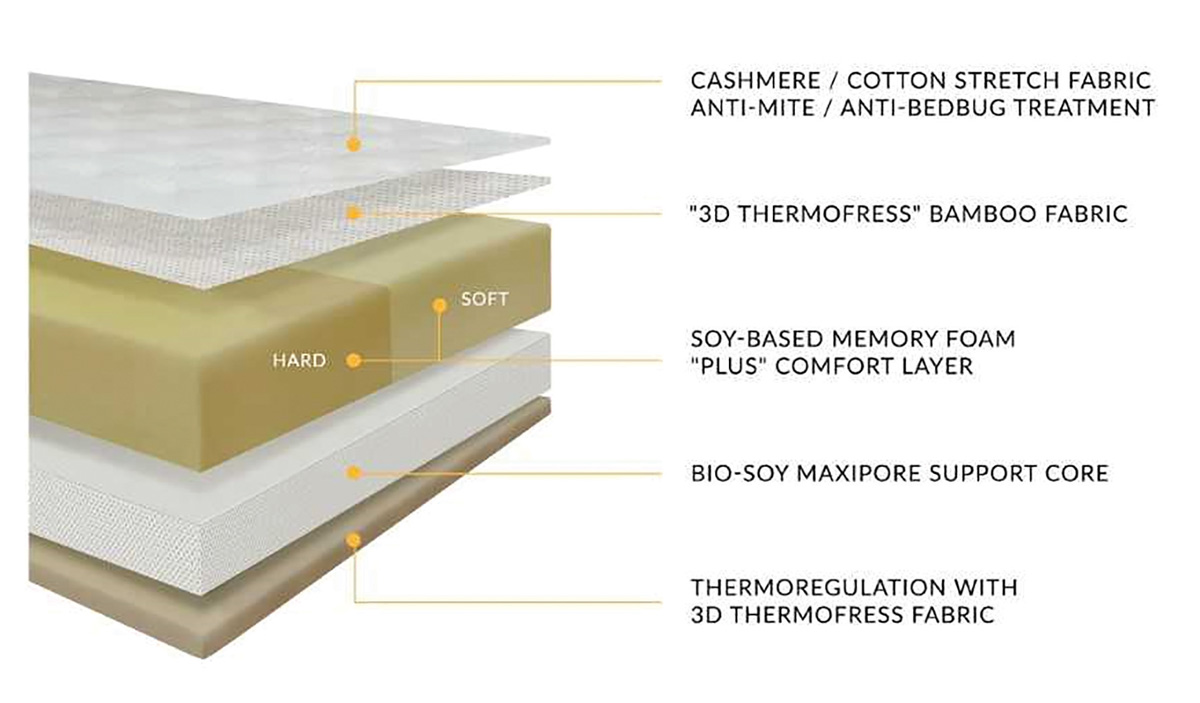 1. Cashmere or Bamboo (Reversible Topper) Cashmere / Cotton Stretch Fabric Anti-mite / Anti-bedbug Treatment
2. Cover With Zipper Cover with zipper for cleaning. Allows exchanging of the memory foams according to preference.
3. Memory Foam Soy-Based Memory Foam (~50% SOY) "Plus" comfort layer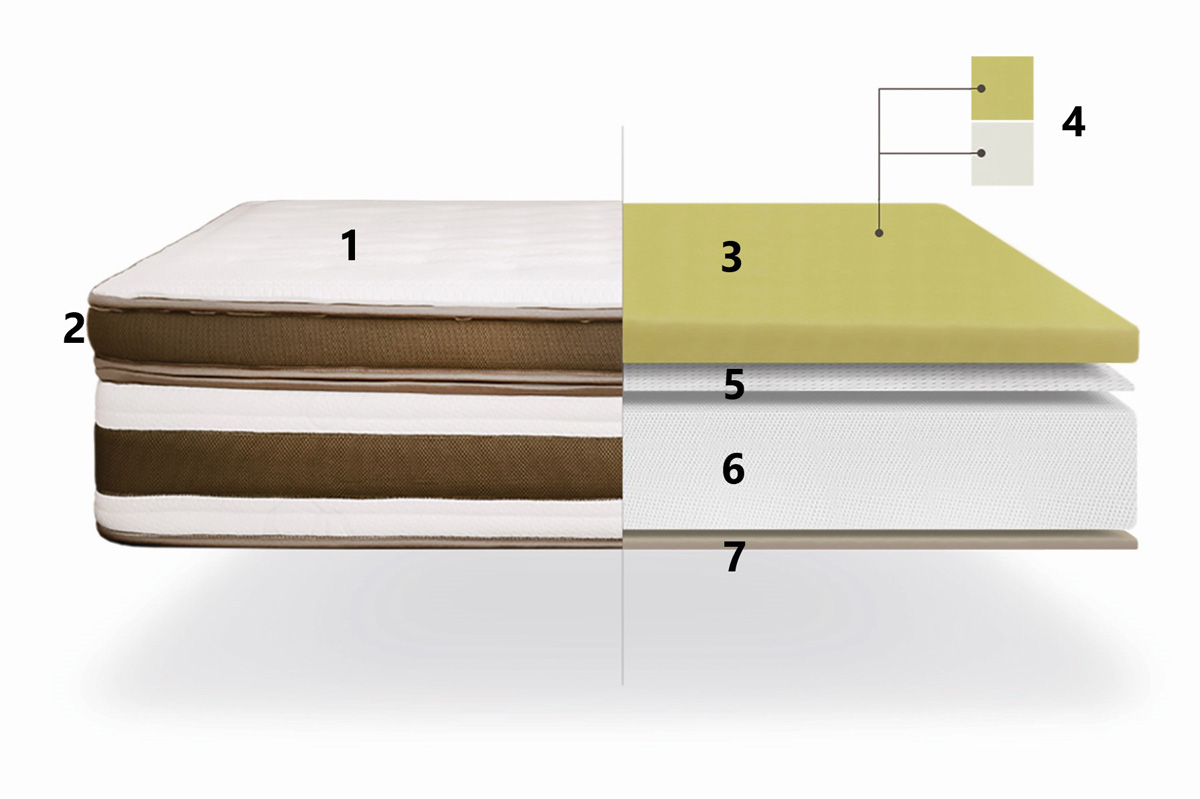 4. Soft/Medium/Firm/Extra-Firm
5. Thermofress 3D "3D Thermofress", Bamboo Fabric
6. Maxipore Bio-Soy Maxipore support core(~50% SOY)
7. Thermoregulation Layer Thermoregulation with 3D Thermofress fabric, 3D Bamboo Fabric
10″ INCHES DEPTH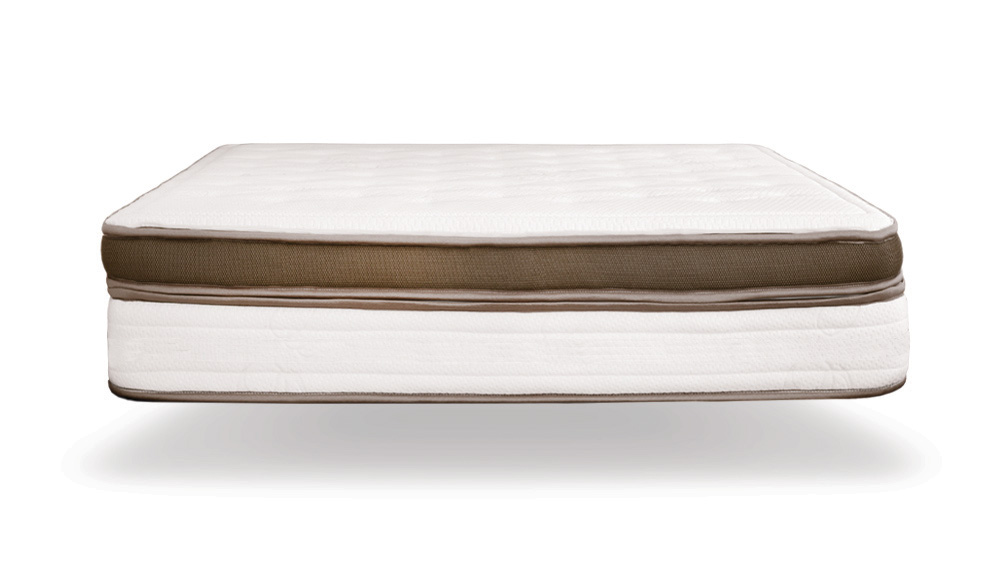 12.5″ INCHES DEPTH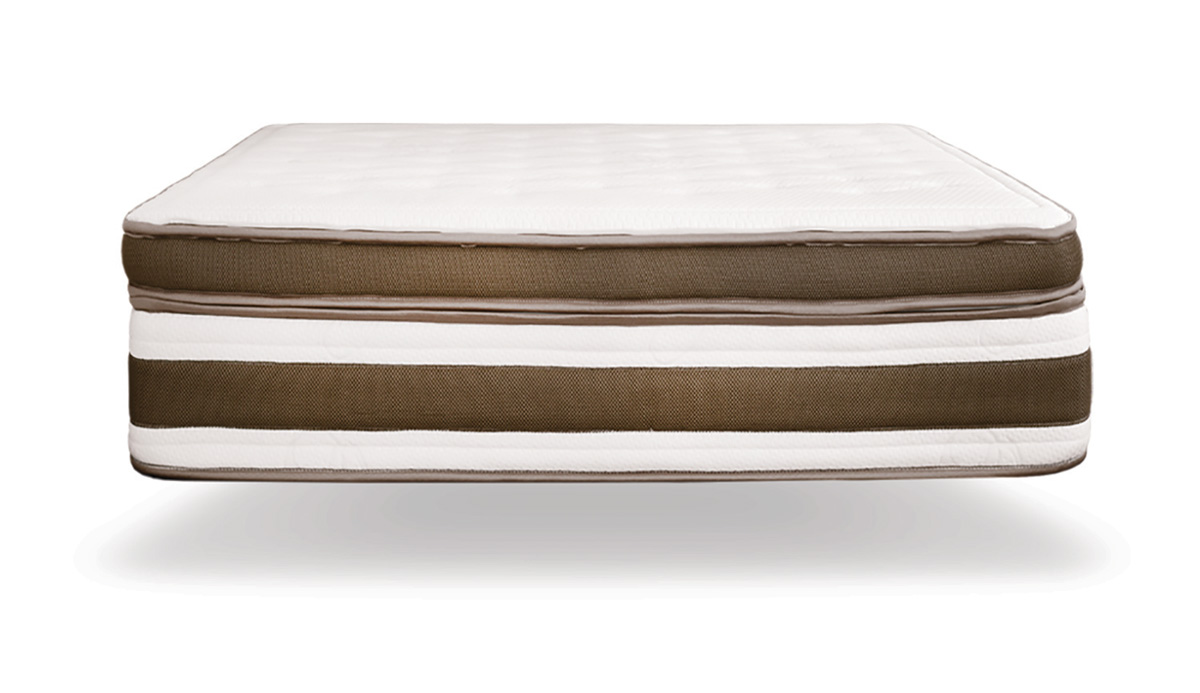 The Ultimate Sleeping Experience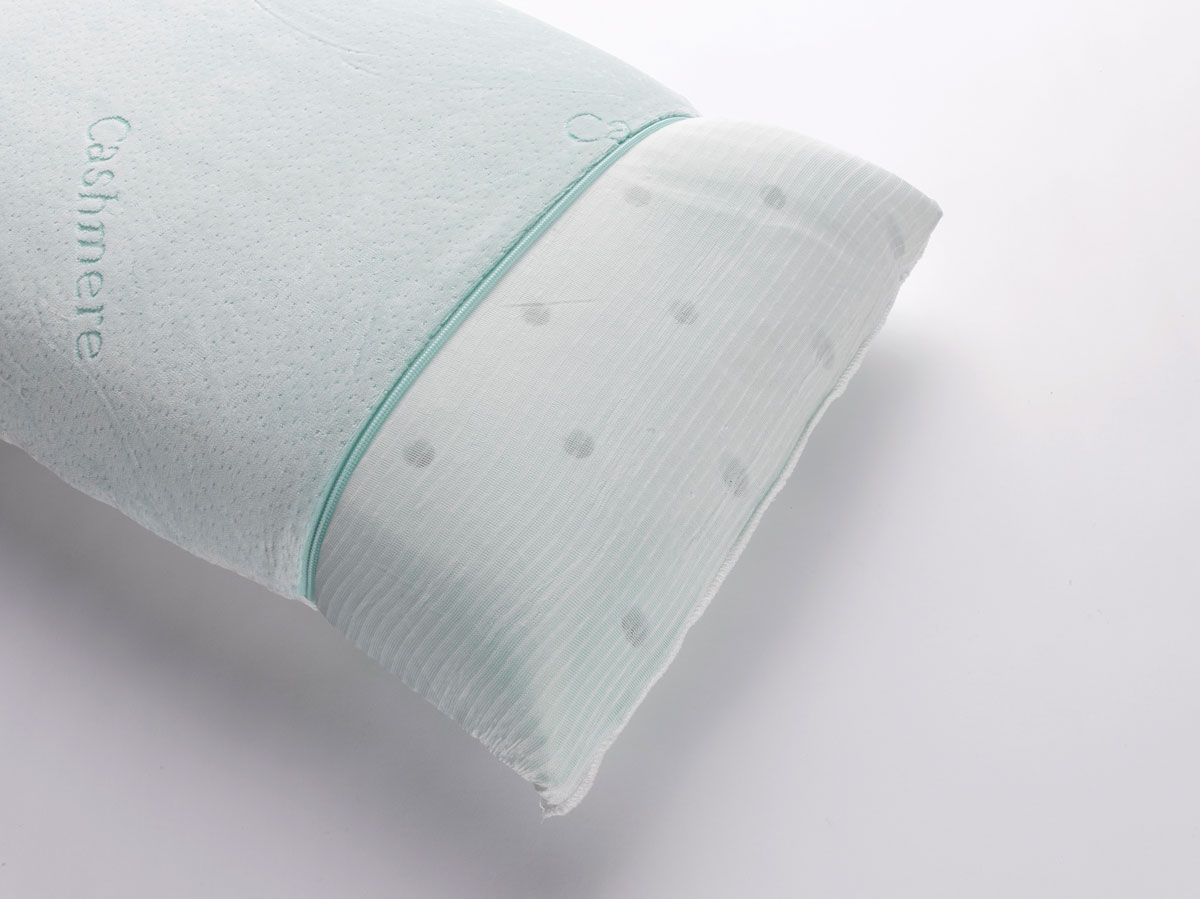 Green Planet® Pillows are the result of decades of research and features the most revolutionary concept and the most scientifically advanced technology in the sleeping industry. Designed with the maximum level of support and breathability, this perfectly balanced body-hugging, thermal-regulating pillow will naturally reduce the stresses accumulated on a daily basis.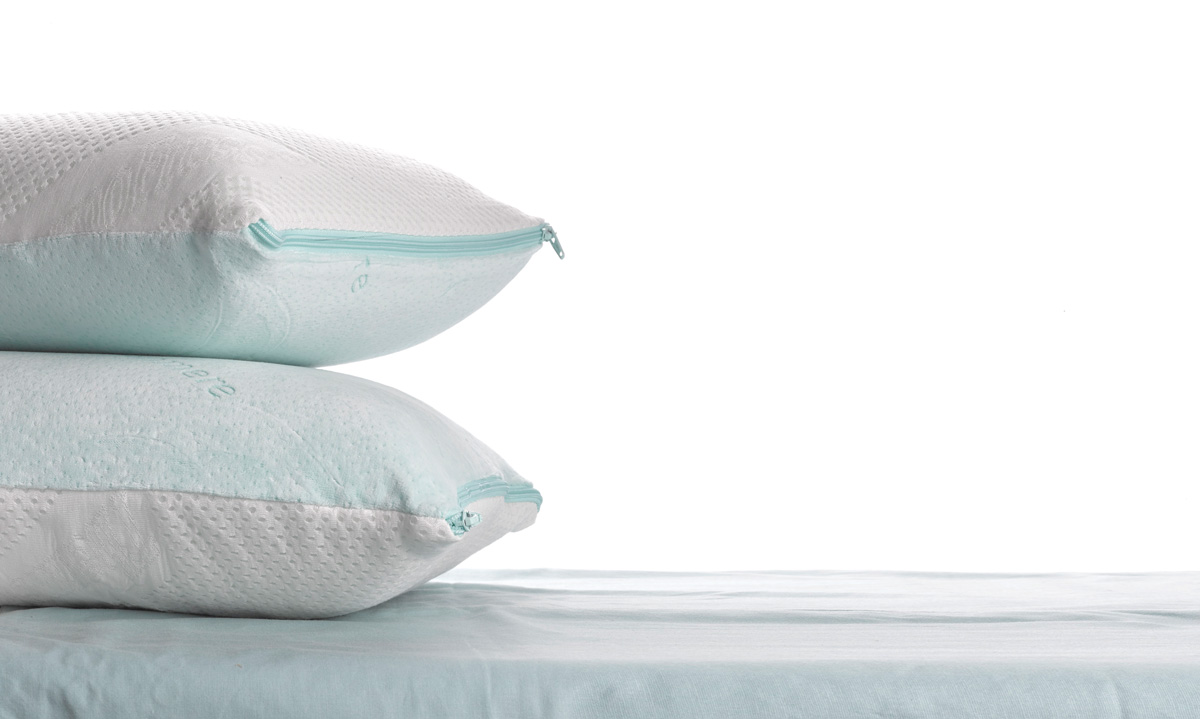 They feature a removable and washable cover and are two-sided with Cashmere and Bamboo to offer both Winter and Summer Comfort. This remarkable Essential Oil Aromatherapy Pillow is Toxin Free and 100% Oeko Tex Certified.